All Your Mac Cleaning Tools At One Place
Being a professional Mac optimization software, Cleanup My System brings tons of modules that help clean user cache files, user log files, secure digital footprints, manage disk space, find large & old files from your Mac.
Clean Mac from Inside - One Click Care
Cleanup My System provides a dedicated module - One Click Care - to free up disk space and optimize Mac. Using it in a single click, you can free up storage space, manage information saved in the browser, and remove old & large files cluttering your Mac.
How does One Click Care help?
One Click Care combines three massive tasks - identifying system junk, managing information saved in the browsers, and finally helping remove unwanted large and old files.
Secure Digital Footprints
Empty Trash Bin
Detect Old and Large Files
Remove User Cache Files &
User Log Files
Removing junk files from Mac helps recover space and declutter the system. Furthermore, Mac's performance improves as the data to scan through is minimal.
How does Cleanup My System know what to clean?
Cleanup My System is a carefully designed application that uses a robust algorithm to detect unwanted junk files and large files on your system. It also helps manage items stored in the browsers for ease of use.
Tidy Up Mac
You'll be surprised to see the pile of junk data (user cache files, user log files, and files in the trash bin) lying around on your Mac. This useless data just takes unwanted space. With Cleanup My System, you can easily identify & remove them.
Protection
Information such as browsing history, tabs from the last session, cookies, autofill values, etc, when left lying around risks user privacy. Cleanup My Systems securely scans this data, helping keep digital identity protected.
Free-up-Space
Stuff like .dmg files, archives, etc., is what we typically forget about. Cleanup My System scans Mac for such files and helps clear them up thereby helping free up gigabytes of storage space & managing data saved on the disk.
Ultimately, get a faster Mac with Cleanup My System!
An Optimized Mac with
Your Personal Mac Cleaner
Reclaim Storage Space & Get a Fine-Tuned Mac!
An all-in-one cleanup tool and go-to solution to optimize Mac performance, analyze disk space, remove clutter, large old files, partial downloads, and more. Cleanup My System is an effective and powerful tool that can make your Mac as good as new in a few clicks.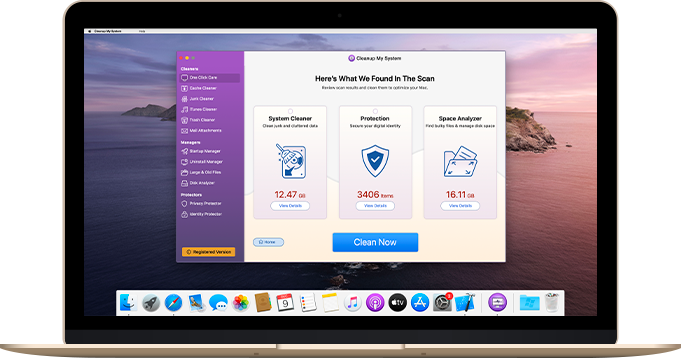 Compatible with macOS 10.11+

System Requirements:
macOS 10.11 or later
Support:
Frequently Asked Questions

Data Not Collected
The developer does not collect any data from this app.